It is well acknowledged in the annals of history that cricket was born in England, which naturally leads one to presume that the oldest cricket grounds would be found here. Consequently, I've compiled a list of the most exceptional among these historic stadiums.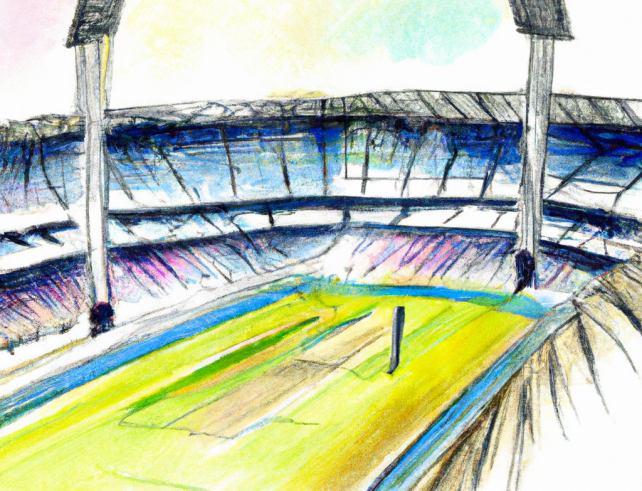 Lord's
In the cricketing circles of England, the Lord's ground is frequently dubbed as the 'headquarters'. As the country's most iconic cricket venue, it is a must-visit destination for all touring teams. Established by its eponymous founder, Thomas Lord, the first version of this historic ground was inaugurated in 1774 before it moved to its current site in 1814.
The first match at Lord's was hosted in 1884, and since then it has set a record for hosting the most test matches in the UK. As it stands today, Lord's is a bustling venue for Test matches, One Day Internationals (ODIs), Twenty20 Internationals (T20Is), and domestic matches of all sorts, including the novel 'The Hundred' format.
Lord's has been the stage for numerous memorable matches, but one game often stands out in cricketing folklore. This was the 1984 test when the touring West Indies team managed an awe-inspiring 344-1 in the fourth innings to clinch victory, following England's declaration.
Trent Bridge
Trent Bridge, situated in Nottingham, stands among England's most historically significant test cricket grounds. Recognized as a ground that facilitates rapid scoring in limited-overs cricket, it has been the site of the two highest team scores recorded as of 2021.
In a remarkable display of batting prowess, England racked up an astounding 481/6 against Australia in 2018, and two years prior, they accumulated a formidable 444/3 against Pakistan. Trent Bridge, which opened its doors in 1841 and hosted its inaugural match in 1899, is a thriving venue for test matches, One Day Internationals (ODIs), Twenty20 Internationals (T20Is), as well as domestic cricket across all formats.
In addition to hosting international and domestic fixtures, Trent Bridge also proudly serves as the home ground for the Nottinghamshire County Cricket Club.
The Oval
Situated in London, The Oval holds the prestigious distinction of having hosted the very first test match on English soil, with Australia as the visiting team in the year 1880.
A staple venue on the cricketing calendar, The Oval has since presided over more than 100 test matches. Apart from these, it also hosts One Day Internationals (ODIs), Twenty20 Internationals (T20Is), county matches for Surrey, and games for the Oval Invincibles in the Hundred tournament.
In a noteworthy feat, Surrey set the record for the highest List A score worldwide in 2007 at this ground, amassing an incredible total of 496/4 against Gloucestershire.
Edgbaston Stadium
Nestled in Birmingham, Edgbaston Cricket Ground was inaugurated in 1882, hosting its inaugural test match two decades thereafter. Much like the other premier stadiums, it is a regular venue for limited-overs internationals as well as domestic cricket tournaments.
On the domestic front, the ground serves as home turf for Warwickshire and the Birmingham Phoenix. Renowned for its vibrant ambiance and exuberant crowd, Edgbaston has witnessed many memorable matches. Among these, the 1981 Ashes Test at Edgbaston is particularly unforgettable. As England teetered on the brink of defeat, the legendary Ian Botham pulled off a miraculous victory by delivering an exceptional bowling performance, securing figures of 5-1.
Headingly
Headingley, based in Leeds, is the home ground for Yorkshire, England, and the Northern Superchargers. The stadium, which was established in 1890, staged its inaugural test match in 1899.
The ground hosts all formats of cricket and, until relatively recently, was regarded as a 'seamer's paradise'—a ground that offered considerable assistance to fast bowlers through swing and seam. While this may not hold as true in contemporary cricket, Headingley still often offers conditions conducive to bowlers.
The most memorable match to have taken place here is arguably from the Ashes series in 1981. In an extraordinary turn of events, Ian Botham and Bob Willis collaborated to secure a stunning victory for England, even after Australia had enforced the follow-on.
Old Trafford
Old Trafford, steeped in history and situated in Manchester, hosted its inaugural test match in 1884, following its construction in 1857. In the 2000s, the ground underwent a major overhaul with the addition of new structures.
Lancashire County Cricket Club calls Old Trafford home, as do the Manchester Originals, who compete in The Hundred tournament. The venue is often characterized as a high-scoring ground where large team and individual totals have been recorded. However, it's a bowler who arguably made the most lasting impact.
In 1993, Shane Warne executed what's now known as the 'Ball of the Century', utterly bamboozling England's batsman Mike Gatting. This spectacular delivery served to firmly establish Warne's reputation in international cricket.
Ageas Bowl or Rose Bowl
This cricket ground, located just outside Southampton, is known by varying names based on its current sponsorship. It serves as the habitual home for Hampshire and has been a venue for international cricket matches since 2011.
Characterized as a ground conducive to swing bowling, it is a favoured destination for visiting bowling line-ups. While Test matches aren't frequently held at the Rose Bowl, it routinely stages One Day Internationals (ODIs), Twenty20 Internationals (T20Is), and all variants of domestic cricket.
Inaugurated in 2001, perhaps the most significant match hosted at the Rose Bowl occurred in 2021. It was the venue for the World Test Championship Final between India and New Zealand. The game, which New Zealand won, stands out not only for its intrigue but also for its historical significance.
Sophia Gardens
Sophia Gardens, situated in Cardiff, is the largest and most renowned cricket stadium in Wales. It has previously been referred to as the Swalec Stadium and made its international debut in 2009, playing host to an Ashes Series match.
Renowned as a pitch where spinners can make significant contributions, the evidence lies in England's decision to field both Monty Panesar and Graeme Swann during the inaugural match.
Established in 1858, one of the most unforgettable games at Sophia Gardens featured the legendary Garry Sobers etching his name in cricket history. Representing Nottinghamshire in 1968, the West Indian stalwart created an unprecedented feat by striking Malcolm Nash for six sixes in a single over.
The Riverside
Durham's Riverside Ground is a relatively recent entrant to the catalogue of English test match venues. Durham ascended to the status of a first-class cricket county in 1992, and the Riverside Ground was unveiled just three years later.
The ground's first One Day International (ODI) was part of the 1999 World Cup, and the inaugural test match at the Riverside saw England competing against Zimbabwe in 2003.
Owing to the typically colder temperatures in April and May, the ground may not be the favorite for visiting teams accustomed to warmer climates. Given the ground's recent establishment, it's challenging to single out the most notable fixture. However, the 2019 World Cup match between England and New Zealand, which England clinched by 119 runs, may be considered a standout.
County Ground Bristol
Bristol's County Ground, inaugurated in 1889, is poised to continue hosting international matches through 2022 and beyond. Known among cricketing circles for its long boundaries, it seems ideally suited for test matches.
However, due to its limited seating capacity, only One Day Internationals (ODIs) and Twenty20 Internationals (T20Is) have been played here so far. Fans of Indian cricket will particularly recall their team's match against Kenya during the 1999 World Cup held at this venue. Both Sachin Tendulkar and Rahul Dravid scored centuries, leading India to a victory by a comfortable margin of 94 runs.
North Marine Road Cricket Ground
Established in 1863, the North Marine Ground is primarily recognized for hosting Yorkshire's annual Scarborough Festival. Despite its traditional domestic focus, it has also staged international matches in the past. Notably, it was the venue for three One Day Internationals (ODIs) between 1976 and 1978, which offered some memorable cricketing moments.
The inaugural ODI at this venue saw the West Indies clinch victory, thanks largely to an outstanding century from Viv Richards. His rapid 118 off 133 balls was remarkably brisk for the pace of ODI cricket back in 1976.
St Lawrence Cricket Ground, Kent
While the St Lawrence Ground may not be an obvious pick, it holds several qualities that validate its significance. Notably, it's renowned for its aesthetic appeal, previously recognized for the unique feature of having a tree growing within its boundary line.
The ground has hosted four One Day International matches, including games during the 1999 World Cup. Opened in 1847, the St Lawrence Ground is currently exclusively used by Kent.