When I was a kid, I used to love watching cricket in the 1970s. Australia was famous for its outstanding fast bowlers back then. Even today, they have some really good pacemen on their team. Let's talk about some of the best ones.
Greatest Australian Fast Bowlers
1. Glenn McGrath
Glenn McGrath might not have been the fastest bowler from Australia, but he was definitely one of the most effective. His success largely stemmed from a near-perfect wrist position, which consistently led the ball to hit the seam, making it really hard for the opposing batsmen.
McGrath began his international cricket journey against New Zealand in 1993 and played for 14 incredible years. During his career, he played in 124 test matches and a total of 376 international games, a notable achievement for a fast bowler. He claimed 563 test wickets, setting a record for a seamer until England's Jimmy Anderson surpassed him. McGrath's best performance was taking 8 wickets for just 24 runs against Pakistan in Perth in 2004.
2. Dennis Lillee
Unlike McGrath, Dennis Lillee was known for his fast pace and intense hostility. A formidable competitor on the field, he formed a strong new-ball partnership with Jeff Thomson during the 1974/75 Ashes series.
With his distinctive moustache and hairband, Lillee made an impression as he sprinted down his long run-up. His quick pace and high bounce were powerful tools against opponents. He started his test career against England in 1971, proving especially effective in Ashes series. From 1971 to 1979, Lillee played in 70 test matches, taking 355 wickets with a personal best of 7/83. In addition, he claimed 103 wickets in 70 One Day Internationals.
3. Mitchell Starc
Mitchell Starc, the first left-arm fast bowler on our list, is still active in cricket. At the time of writing, he has taken 277 test wickets and has the potential to increase this count. He also boasts a remarkable tally of 355 wickets in shorter formats.
Starc is not only fast but also skilled in generating swing. He can deliver both conventional swing and reverse swing, a combo that can be quite lethal. You should watch a video from the 2022 test series against Pakistan. In it, Starc takes out Fawad Alam with a brutal reverse swinging yorker.
When Mitchell Starc is on his game with perfect line and length, he's almost impossible to play against. We hope he stays healthy and keeps delivering spectacular performances for many more years.
4. Brett Lee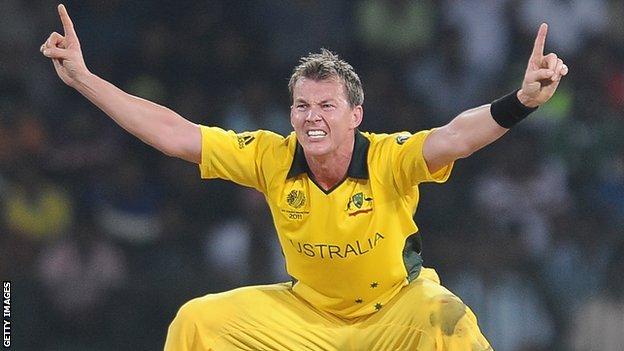 Brett Lee stands out as arguably the fastest consistent bowler Australia has seen in the modern era. His smooth run-up and perfect delivery stride allowed him to regularly hurl the ball at speeds over 90 miles per hour.
Lee complemented Glenn McGrath's seam movement nicely, and together, they formed a formidable duo in all formats of cricket. Lee first appeared in a test match against India during the 1999 MCG Boxing Day game, making a stunning debut by taking five wickets in the first innings and seven in the match.
The player fondly referred to as Bing emerged as one of Australia's most successful fast bowlers in test cricket history, claiming 310 wickets. Brett Lee also proved effective in limited overs games, taking 408 wickets in a total of 246 One Day Internationals and T20i matches.
5. Shaun Tait
Some might question the inclusion of Shaun Tait due to his limited appearances; injuries confined him to only three test matches and 59 international games in total. However, his extraordinary speed makes him one of the most formidable bowlers of his era.
Though his test performance didn't stand out, Tait truly shone in one-day cricket. In 35 One Day Internationals, he took 62 wickets, with his best figures being 4/39 and an admirable bowling average of 23.56. His strong performance in T20i led to a stint playing franchise cricket globally.
While Shaun Tait's inclusion might be a point of contention, there's no denying his immense speed when he was in good health and form. Had he been luckier with injuries, he might have been one of Australia's top wicket-takers in all formats.
6. Jeff Thomson
Jeff Thomson might very well be the fastest bowler in cricket history. Before official speed measurements were implemented, it's believed that Thomson could reach speeds of 100 miles per hour, a terrifying speed especially in the days before helmets.
Thomson had a unique 'slingy' bowling style that resembled a javelin thrower. This approach likely contributed to his rapid pace, and he also managed to generate significant bounce on any pitch.
He made his test match debut against Pakistan at the MCG in December 1973. However, his first performance didn't hint at his potential, as he ended up with a 0/100 score in the first innings. Despite early inconsistency, Thomson fine-tuned his skills and ended up taking exactly 200 wickets in 51 test matches.
Thomson was part of the Australian team that reached the 1975 World Cup final. In addition, he claimed 55 wickets in 50 One Day Internationals, adding to his overall international tally.
7. Josh Hazlewood
Australia is currently fortunate to have a great line-up of fast bowlers. Alongside Mitchell Starc and Pat Cummins, Josh Hazlewood often completes the trio to create a formidable and fast-paced attack. Hazlewood could shine in any era, thanks to his wealth of skills.
Hazlewood possesses speed and a solid wrist position, which aids him in achieving substantial seam movement. He can also generate considerable swing when the conditions favor him. As of the second test against Pakistan in March 2022, he had claimed 215 test wickets in 57 matches, with his best performance being 6/67. He also had 133 wickets in limited overs internationals at that point.
Currently 31, if Hazlewood continues to play into his mid-30s, he could potentially rise to the top of Australia's leading wicket-takers list.
8. Pat Cummins
It's uncommon for a fast bowler to captain his national team, but this honor has been given to Australia's Pat Cummins. His leadership role underscores his high regard in the sport, and he's been a model of excellence since succeeding Tim Paine.
As a fast bowler, Cummins is the speediest in the current Australian lineup. Despite dealing with numerous injuries early in his career, he's capable of consistently surpassing speeds of 90 mph when in top shape.
Cummins first played in a test match against South Africa in 2011, and he made an immediate impact. In the second innings of that game in Johannesburg, he posted outstanding figures of 6/79.
As of the second test against Pakistan in March 2022, Cummins had participated in 40 test matches and claimed 189 wickets. His best figures have improved to 6/23, and he's also taken 155 wickets in One Day Internationals and T20 Internationals.
9. Nathan Coulter-Nile
Nathan Coulter-Nile's inclusion might be subject to debate, but in my opinion, he's a highly underrated bowler who deserved to play more international cricket. He hasn't played test matches for Australia, and at 34 years old, it's unlikely he will at this point in his career.
Coulter-Nile has shown his power in limited overs cricket, becoming a consistent presence in the IPL and other franchise tournaments worldwide. He's also played 32 One Day Internationals and 28 T20 Internationals for Australia, and the national selectors may still consider him for future games.
In his 60 international matches, Nathan Coulter-Nile has claimed 86 wickets. With best figures of 4/31 in T20s, his performance is impressive, and his averages and economy rates are exceptional. At the peak of his career, Coulter-Nile displayed genuine speed and was notably effective in the death overs. Therefore, I believe he deserves recognition.
10. James Pattinson
James Pattinson, who faced many injury challenges throughout his career, has retired from international cricket but continues to play in the domestic circuit. Similar to Shaun Tait, one can't help but wonder about his potential if he could have maintained his fitness.
Pattinson, whose brother Darren briefly played a test match for England, is physically robust. His strong build allows him to consistently bowl at speeds reaching 90 mph, and he also achieves significant bounce.
Unfortunately, his physical health has often disappointed him, leading to his departure from international cricket after just 21 test matches, 15 One Day Internationals, and four T20 Internationals. He claimed exactly 100 wickets during this period, with a highlight being his achievement of five wickets in each of his first two matches in 2011.
Pattinson will continue playing domestic cricket for some time, but it's unfortunate that we won't get to see more of him in Australia's test match whites or Canary yellow.
Conclusion
This list showcases several outstanding names, highlighting Australia's knack for producing efficient fast bowlers. There may be some discussions regarding the chosen names, and someone like Mitchell Johnson could have easily made the list.
Those included form a group of fast bowlers that any international team would be lucky to have. Without a doubt, Australia has been fortunate to have such talented pace bowlers over the years.
Next up, why not take a look at the 12 best cricket stadiums in England to visit in 2023.