Australia boasts a selection of the world's most magnificent cricket arenas, and I am about to delve deeper into exploring the cream of the crop among these venues.
1. Adelaide Oval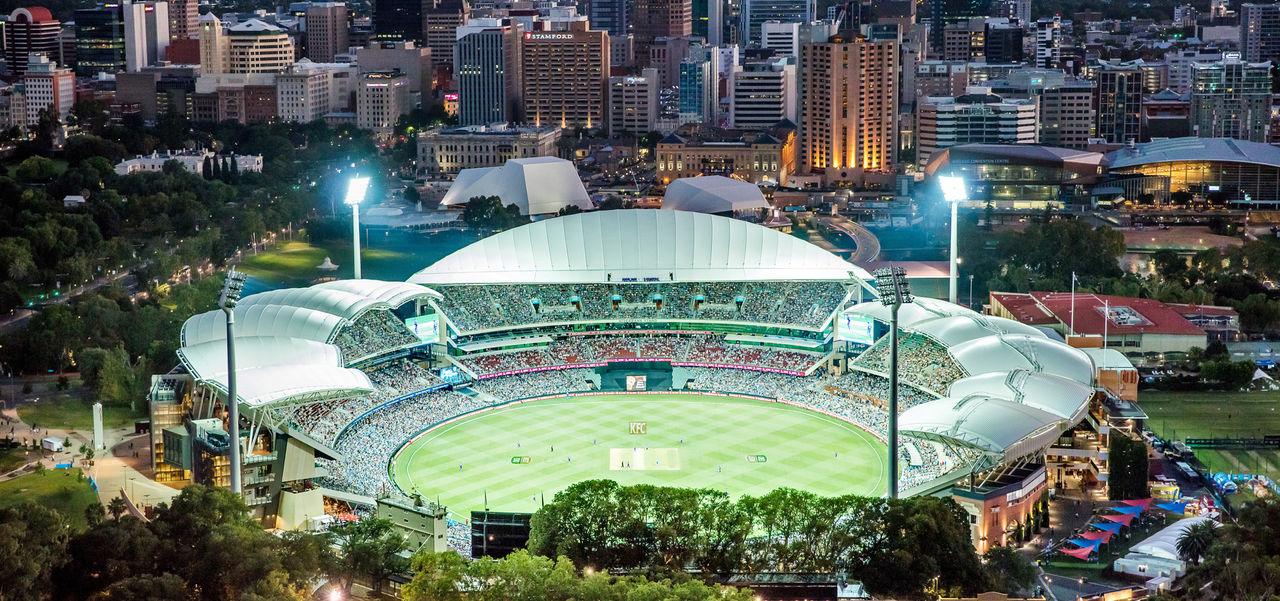 I think the best cricket stadium in Australia is the Adelaide Oval. It opened in 1871 and three years later, South Australia started using it for state cricket. The first test match between Australia and England happened here in 1884.
This stadium is also popular for other events. Besides cricket, it's often used for Australian Rules Football and has even hosted Rugby League games and rock concerts. So, it's a really flexible venue.
Right now, it can hold up to 55,317 people. But the most people it's ever had was over 62,000 during an AFL football game.
2. Melbourne Cricket Ground
Some people might say that the Melbourne Cricket Ground should be considered the best. There's certainly reason to believe so, especially given its rich history. It opened in 1853 and was the venue for the first-ever test match between Australia and England in 1877.
When it comes to size, the Melbourne Cricket Ground takes the lead. It's the largest sports stadium in the Southern Hemisphere and ranks 11th largest in the world. Its capacity of 100,000 is second only to India's Sardar Patel Stadium.
The reason Adelaide Oval gets the top spot is mainly because of how it looks. The Melbourne Cricket Ground is also attractive, but it's not quite as striking.
The Melbourne Cricket Ground is also the home field for the Melbourne Stars.
3. Sydney Cricket Ground
The Sydney Cricket Ground usually hosts Australia's first cricket test each New Year. Opened in 1848, it now hosts not just cricket but also AFL and both rugby codes. However, it's not that big, only seating 48,601 people.
Because it's smaller, it doesn't make it into the top ten list overall. But, if we're talking about how it looks, some could argue that the Sydney Cricket Ground is the best. It has kept its historical members and ladies grandstands, making it a truly gorgeous place.
The Sydney Cricket Ground is also the home base for the Sydney Sixers.
4. Brisbane Cricket Ground
The Gabba, also called the Brisbane Cricket Ground, was set up in 1895. It's one of the smaller stadiums, only able to hold 42,000 people, but the vibe is exciting when it's full. This historic ground typically hosts the first test match of the Australian summer.
Australia's first home T20 international game was also played at the Gabba in 2006. Besides cricket, the stadium is used for other events too. For example, it hosted Olympic Soccer when Australia held the games in 2000.
5. Bellerive Oval
The Bellerive Oval is the main cricket stadium in Tasmania. It opened in 1914 and is the usual playing field for the Hobart Hurricanes. The stadium has also hosted international matches in all three cricket formats.
Though it only seats 20,000 people, its beautiful design makes it stand out. That's why it ranks high on the list. If it were larger, more people worldwide could appreciate just how wonderful the Bellerive Oval truly is.
6. Optus Stadium in Perth
The Optus Stadium is considered to be the most modern and versatile sports venue in Australia. It's also one of the priciest globally, reportedly costing around $1.6 billion AUD when it opened in 2017.
Now, the Australian cricket team plays their international matches here, moving from the WACA (Western Australian Cricket Association). Even though it's a new stadium, it's quite beautiful, which helps place the Optus high on this list.
7. Bradman Oval in Bowral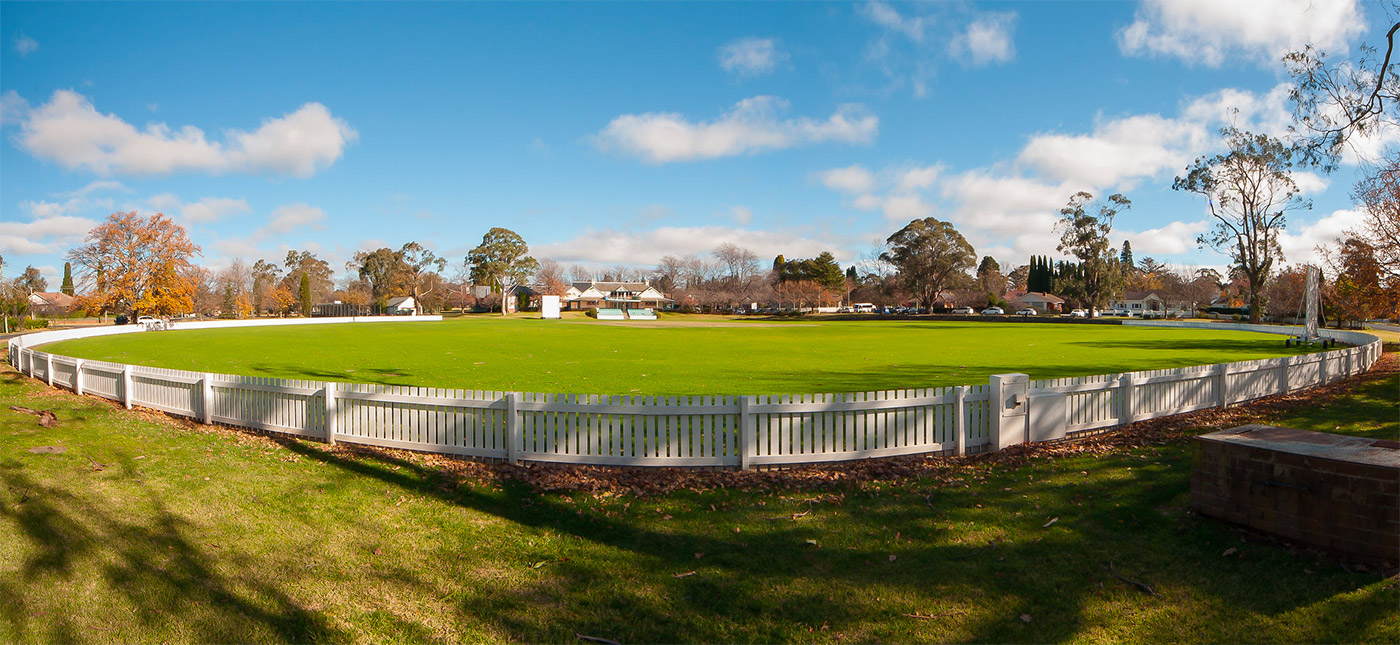 The famous cricketer Donald Bradman is well-known in the town of Bowral, New South Wales. The town's welcome sign even shows an image of 'The Don' ready to hit the ball.
The cricket ground here was named after Bradman in 2000, but it's been around since 1896. Despite its small size and hosting only women's international games until 2021, it ranks high on this list because of its beautiful design.
If you're nearby, you shouldn't miss the Sir Donald Bradman Museum, which is right next to this iconic cricket ground.
8. Docklands Stadium in Melbourne
Docklands Stadium, with its modern design, might not be the most eye-catching cricket ground in Australia, but it's definitely impressive. Opened in 2000, it can hold over 55,000 people and is frequently used by the Melbourne Renegades.
The stadium is used for more than just cricket, with football, AFL, and rugby games also held here. However, it hasn't hosted an international cricket match since 2006, which could mean that Cricket Australia has shifted focus elsewhere.
9. Stadium Australia in Sydney
Stadium Australia was specially built for the 2000 Sydney Olympics. Since then, it has hosted various top-tier sports, including cricket, making it one of the most versatile cricket stadiums in Australia. It also hosts rugby, AFL, and soccer matches.
When the Big Bash cricket tournament rolls around, the Sydney Thunder plays their home games here, and it's also used for New South Wales' State cricket matches. While the stadium typically seats 82,500 people, it once held an impressive crowd of 114,714 during the Olympic Closing Ceremony.
10. Manuka Oval in Canberra
The Manuka Oval in Canberra has served as an impartial venue during the Big Bash T20 tournament. Until 2021, it hosted just one test match but was often used for ODIs and T20is.
The Manuka Oval, which opened in 1929, can only seat 16,000 people, which is quite small. This is why it's in tenth place. However, it has a nice design and is also used for AFL games.
11. Junction Oval in Melbourne
The Junction Oval in St Kilda might not be well-known, but it's a significant venue for women's cricket in Australia. It hosts Tests, ODIs, and T20is, and it's also the home ground for the Victoria men's team.
Since it opened in 1856, it's had a rich history and is also used for AFL games. But with seating for just 7,000 people, it's one of the smallest professional stadiums in Australia.
12. Devonport Oval
The Devonport Oval in Tasmania is primarily known for AFL, but it's also a popular venue for cricket matches. It opened in 1937 and is quite small, holding only 14,000 people. Despite this, it has a great design and the atmosphere is vibrant when it's packed.
So far, it's hosted only one ODI, but this appealing stadium certainly deserves more international recognition in the future.