Cricket shoes and cricket spikes are naturally an essential part of a cricket players toolkit. It's essential to find the right pair. Here we take a look at the top 5 cricket footwear for fast bowlers in 2023.
Adidas Adipower Vector 20: High-Performance Cricket Shoes for Fast Bowlers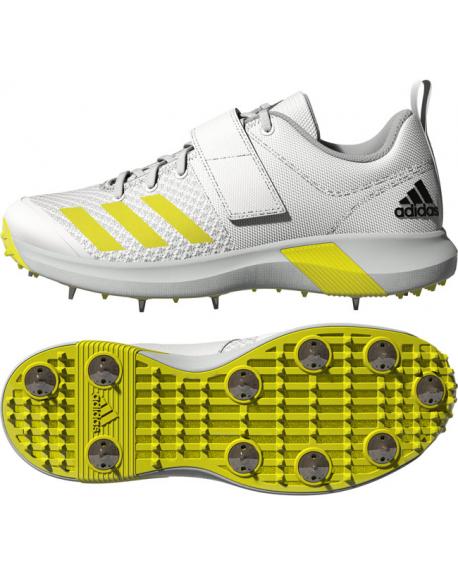 The manufacturer's details for these shoes emphasize how specially designed they are for fast bowlers. With ten extra spikes on the sole, these shoes are made to help you move faster.
They also feature a bevelled heel for added comfort and protection during landing.
Though I'm not a fast bowler, I do run quite fast, so I tested them out. The Adidas Adipower Vector 20 shoes were impressively lightweight, and I hardly felt the ground impact.
They offered excellent cushioning and even though I'm not sure if they made me run faster, they've become my top pick for shoes. The raised sides provided good ankle support too.
These shoes aren't the cheapest, but their comfort makes them versatile enough for batting as well. So, you could potentially use one pair for all your cricket needs. But keep in mind, their main design focus is for fast bowling.
Payntr Bodyline 225 Bowling Cricket Shoes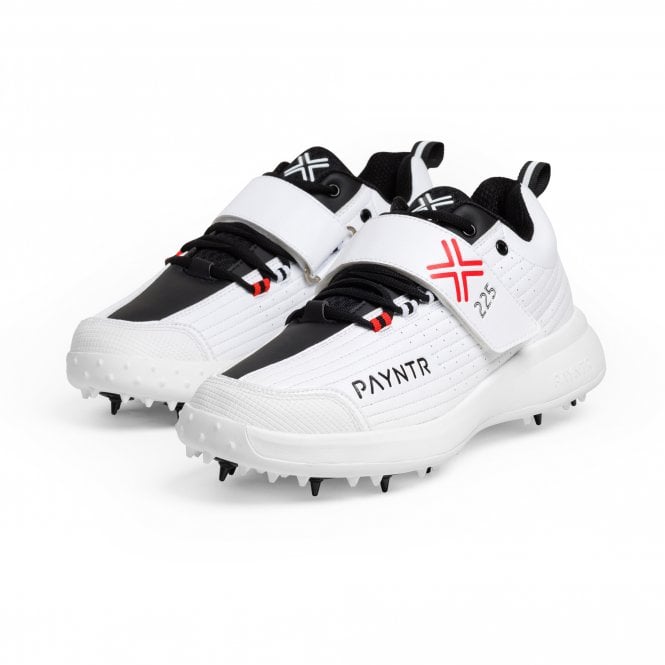 The term 'bodyline' is closely associated with fast bowling, which piqued my interest in this Payntr product. I was immediately drawn to the shoes' classic design – white with a black trim and red logo. For someone like me, who prefers not to wear flashy colors on the field, this was a definite plus.
In terms of functionality, all players will appreciate the high sides that protect the ankle. Known as top collars, this prominent design feature stood out.
These shoes are impressively lightweight and breathable, and the EVA midsole is designed to shape itself around your feet. If your feet are flat or wider than average, these shoes could be a great fit for you.
While they can be used for batting, I'd recommend these shoes specifically for bowling if you're an all-rounder serious about each part of your game.
New Balance CK4040 L4 2021 Fast Bowling Cricket Shoes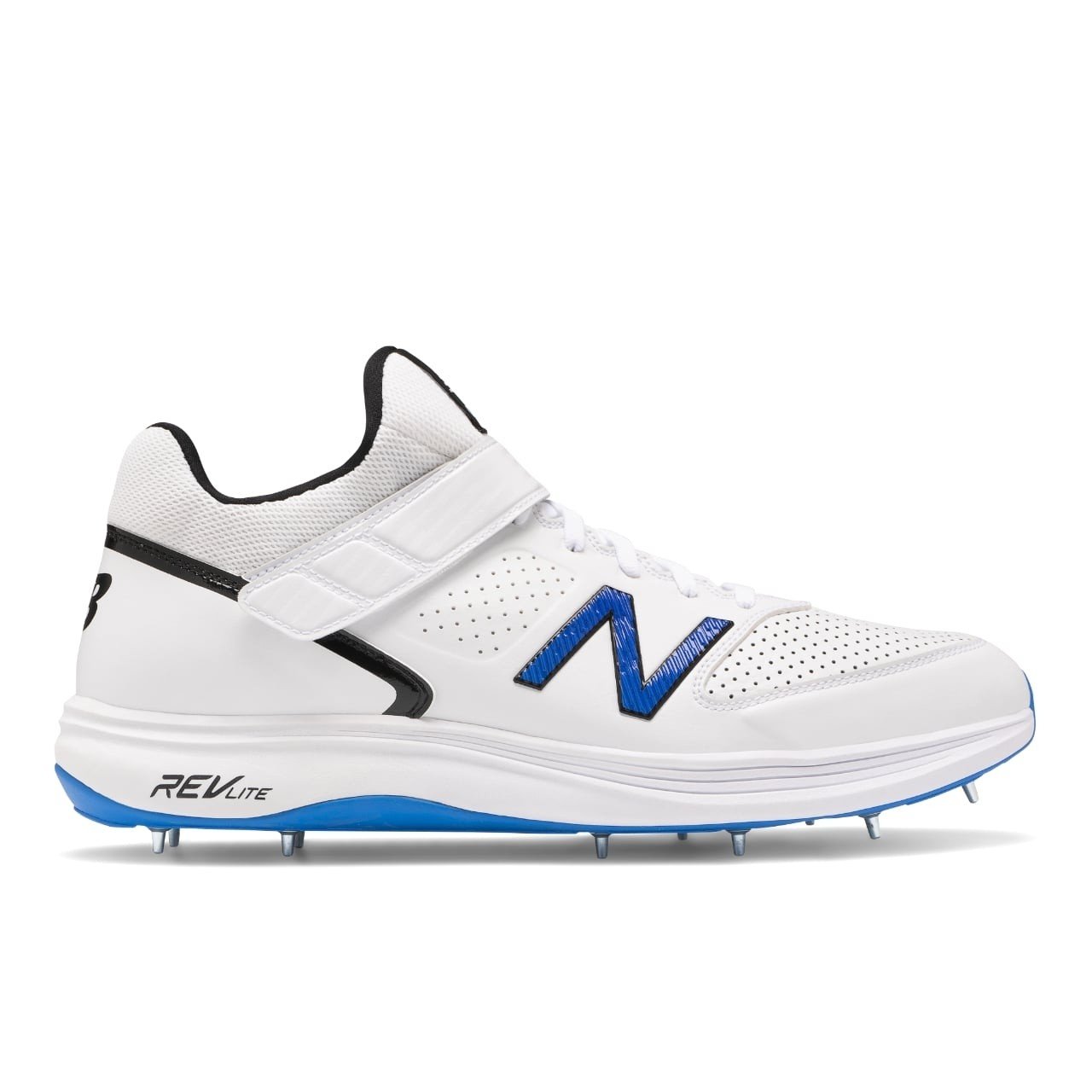 These shoes feature a high top collar and 11 studs for improved grip, stability, and traction. The New Balance CK4040 L4 shoes stood out to me for their extreme lightness compared to other products I'd tried.
Being lightweight naturally adds to their comfort, but these shoes also provide great support, particularly when bowling. The mid-foot strap, often talked about for its extra support, boosted my confidence while running.
These shoes are specifically engineered for the high-impact work that fast bowlers endure, and reviews highlight their durability.
They're also more affordable than other shoes on this list, making them a serious contender. This lower price point could allow you to invest in a separate pair of batting shoes.
Asics Gel Speed Menace Cricket Shoes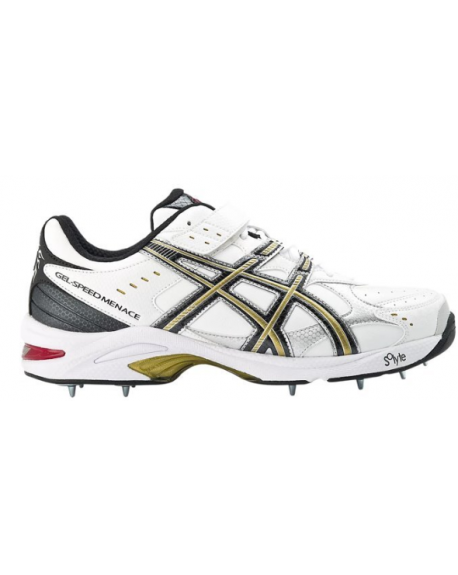 The Asics Gel Speed Menace shoes are designed with a brighter color palette, including a gold trim. Among the shoes I tested, these felt the most secure due to their comprehensive lacing system.
On the flip side, their ankle protection is not as extensive and they feature a rounded toe, which may not appeal to everyone.
The clue to their design is in the name 'Speed Menace', indicating they're primarily designed for bowlers who aim for extreme pace in short stints.
If you're in that category, these shoes could be perfect. They're also suitable for fielding and batting, adding overall value to their appeal.
To summarize, these shoes are geared towards speedy bowlers rather than seamers who enjoy long bowling stints.
Puma 19.1 Bowling Cricket Shoes with Spikes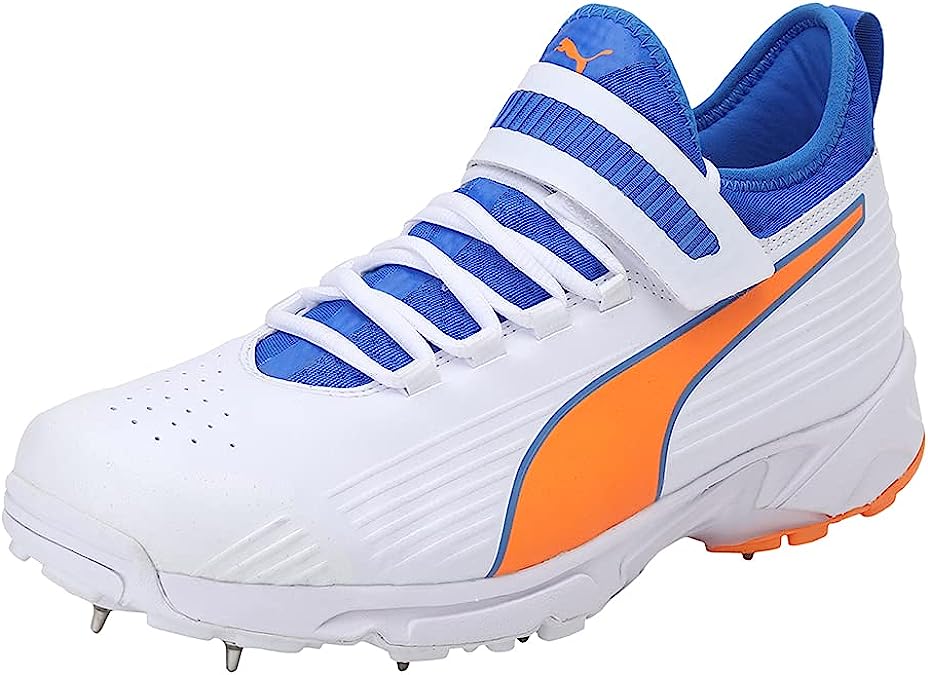 Compared to the previous shoes, I'd suggest this product as the top all-rounder. The Puma 19.1 range features a high ankle top for protection and a supportive center strap.
These shoes have a flat heel and impressive traction. The flat design transfers more force to the shoe bottom, which results in the spikes digging more into the pitch as you run. This effect can enhance your confidence during your run-up, letting you focus solely on your action and forget about your footwear.
If you're a bowler seeking the best value for money, these might be the perfect shoes for you. However, if you need a pair suitable for batting as well, you might consider the Pumas, but you may need a second pair for batting.
Conclusion
We have compiled this list by considering the following criteria;
Stability & Spikes
Traction
Toe Space & Arch Support
Cushioning
Value for Money