Here we take a look at the best Cricket Video Games for PC in 2023.
Ashes Cricket (2017)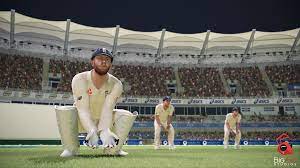 This 2017 release is all about the intense match between England and Australia known as "The Ashes." The Ashes is not just any trophy, but the most ancient one in test cricket. This game recreates the excitement and drama of the competition.
Developed by BigAnt Studios, the goal of the game is to engage in the most challenging part of cricket – the test match. You get to pick your team and engage in a virtual face-off, experiencing every aspect of a real match.
I have several reasons to place this game at the top of my list. The game environment is exceptional, complete with gripping opening music that immerses you into the Ashes series. The visual quality is also top-notch, with great portrayals of individual players.
What surprised me was the option to play with other international teams. However, this feature could be made more obvious.
Operating System Requirements
OS: Windows 7 (x64) or higher.
CPU: AMD Phenom II X4 970.
Memory: 8 GB.
Graphics Card: AMD Radeon R9 390X.
File Size: 12 GB.
Cricket Captain (2021)
I really enjoy playing player games, but my favorite ones are usually the ones that require strategy. One game that I've been playing for years and absolutely love is Cricket Captain. The 2021 version of the game has some impressive upgrades.
Over the years, the graphics of Cricket Captain have significantly improved from when I first started playing. The stats available to the captains have also gotten much better. I'm happy to see that Jonathan Agnew's commentary has remained the same.
One of the new updates in the game is the option to play 100-ball cricket, which is the newest format in the sport. You can still recreate real matches from cricket's history, and if you get tired of strategizing from the sidelines, you can switch to play mode.
Compared to some other titles on this list, the graphics in Cricket Captain may be a bit basic. However, I still believe it's the best cricket strategy game available.
Don Bradman Cricket 2017
Sir Don Bradman, a legendary cricketer from the first half of the 20th century, continues to be an enduring figure in modern cricket. The game named after him, developed by BigAnt Studios, pays tribute to his greatness.
In this game, players engage in matchplay cricket, taking turns as batsmen and bowlers. The main focus is on one-day cricket, with the objective of outscoring your opponent to secure victory.
There are several aspects of this title that I appreciate. The gameplay is straightforward and easy to understand, allowing for an enjoyable experience. The game effectively captures the various elements of a cricket match, and I was particularly impressed by the wide range of options available for a bowler's deliveries.
On a slight downside, the graphics may not be as visually striking as some other recent releases.
Operating System Requirements
OS: Windows 7 (x64) or higher
CPU: Intel Core i3-3210 / AMD Athlon II X4 555
RAM: 4 GB
VIDEO CARD: Radeon HD 6670 or NVIDIA Geforce GT710 with Min 1GB Memory
PIXEL SHADER: 5.0
VERTEX SHADER: 5.0
FREE DISK SPACE: 11 GB
Cricket 19: The Official Game of the Ashes
Cricket 19 is a straightforward title covering cricket forms like Test Match, ODIs, and T20. It offers comprehensive gameplay, various team choices, and recreating classic encounters. The graphics prioritize replicating top cricketers' features but may not match The Ashes' sharpness.
It would be great to see The Hundred format included in future editions. However, Cricket 19 remains an enjoyable and realistic game.
Operating System Requirements
OS: Windows 10 (x64)
64-bit processor and operating system
Processor: Intel Core i5-4200 / AMD Phenom II X4 970
Memory: 8 GB RAM
Graphics: AMD Radeon R9 390X or NVIDIA GeForce GTX 970 with minimum 2GB Memory
DirectX: Version 11
Storage: 25 GB available space
Network: Broadband Internet connection
Big Bash Boom
Big Bash Boom is an exciting game that faithfully replicates Australia's most successful T20 domestic competition. It offers the opportunity to play as any of the teams participating in the tournament and allows you to experience matches at their respective grounds. Additionally, with a simple click, you can switch to the women's version of the game, WBBL.
Big Bash Boom is a highly enjoyable and fast-paced game, although it may be more targeted towards a younger audience. While I generally like the graphics, the oversized heads on the players can be a bit distracting for me. Personally, I haven't found much value in changing the ball to unconventional options like a potato, a pie, or a golf ball, as they seem to serve no real purpose.
Furthermore, I have refrained from using the feature where the pitch can be set on fire to impede the batsmen from running. However, I would say this game is perfect for pure entertainment for kids
Operating System Requirements
OS: Windows 7 (x64) or higher
64-bit processor and operating system
Processor: Intel Core i3-3210 / AMD Athlon II X4 555
Memory: 4 GB RAM
Graphics: Radeon HD 6670 or NVIDIA Geforce GT710 with Min 2GB Memory
DirectX: Version 11
Network: Broadband Internet connection.
Cricket Revolution
Cricket Revolution aims to capture the excitement and fast-paced nature of limited overs cricket. These formats have attracted numerous new fans to the sport, and it's no wonder that many games choose to focus on T20 and ODI cricket.
One of the standout features of Cricket Revolution is the ability to play as a single player or seamlessly switch to multiplayer mode. While the game mainly revolves around hitting big sixes and taking wickets, it also covers the more intricate aspects of the sport.
Gameplay includes features such as umpire and player reviews, as well as the implementation of Hawkeye technology.
In terms of complexity, Cricket Revolution is considered an entry-level title. The graphics may be relatively basic, but it's a fantastic choice if you're seeking entertainment and the sheer fun that limited overs cricket brings.
Cricket Coach (2014)
Cricket Coach 2014 is another strategy game focused on the sport of cricket. While there are many differences compared to the Cricket Captain series, I believe both games are worthwhile additions to any collection because Cricket Coach 2014 delves even more deeply into the intricacies of cricket.
This game allows you to hone your coaching skills not only with the top cricket playing nations, but also at a grassroots level with associate countries such as Bermuda or Germany. From this humble beginning, you can gradually build your career until you're ready for more challenging endeavors.
Cricket Coach 2014 incorporates all the unique strategies needed to excel in cricket, but it is more intricate than similar coaching games, which is why many players prefer it.
Despite its many strengths, a potential area for improvement could be the addition of a player mode to increase its appeal and possibly boost sales.
Tabletop Cricket
Tabletop Cricket, as the name implies, is a game designed to mirror the tabletop cricket games many enjoyed during their childhood. The game takes place on an actual table, where players can hit sixes out of the 'ground' and even spot various household items like food packaging in the background, which represent a typical family kitchen.
The game offers a wide variety of international and associate nation teams to choose from, including the USA.
While some hardcore gamers may scoff at Tabletop Cricket for its whimsical nature, I find it incredibly enjoyable. It's available as a free download, a major plus in an era where many games can strain budgets.
For many, including myself, it's the perfect game to enjoy during short breaks, like your lunch hour. The game also adapts well to mobile devices, providing a fun way to occupy your time during a train commute.
Yes, the gameplay is simple, and the graphics and animated crowd match this light-hearted theme. However, this game isn't designed for serious competition. So sit back, suspend your disbelief for a bit, and aim to score a massive six into that cereal box.
International Cricket

International Test Cricket is a strategy game focused solely on the most enduring format of the sport. The game offers a deep analysis experience, aiming to accurately reflect the challenges a real-life international coach would typically face.
It's effective in achieving its goals, especially with its realistic incorporation of timing as a critical factor in coaching decisions. Delaying a decision in this game can significantly impact your team's performance, which I find to be a positive feature.
There are many appealing aspects in this game: it offers pleasing graphics, and requires patience from players as they watch a full test match unfold. However, some players, including myself, have noticed a minor issue – the visibility of the ball during gameplay could be improved. This small adjustment could enhance the game further.