There are a total of six types of cricket pitches, each displaying varying levels of moisture and compaction. Each type of pitch presents distinct advantages for either the bowler or the batter. Let's delve into why these advantages exist.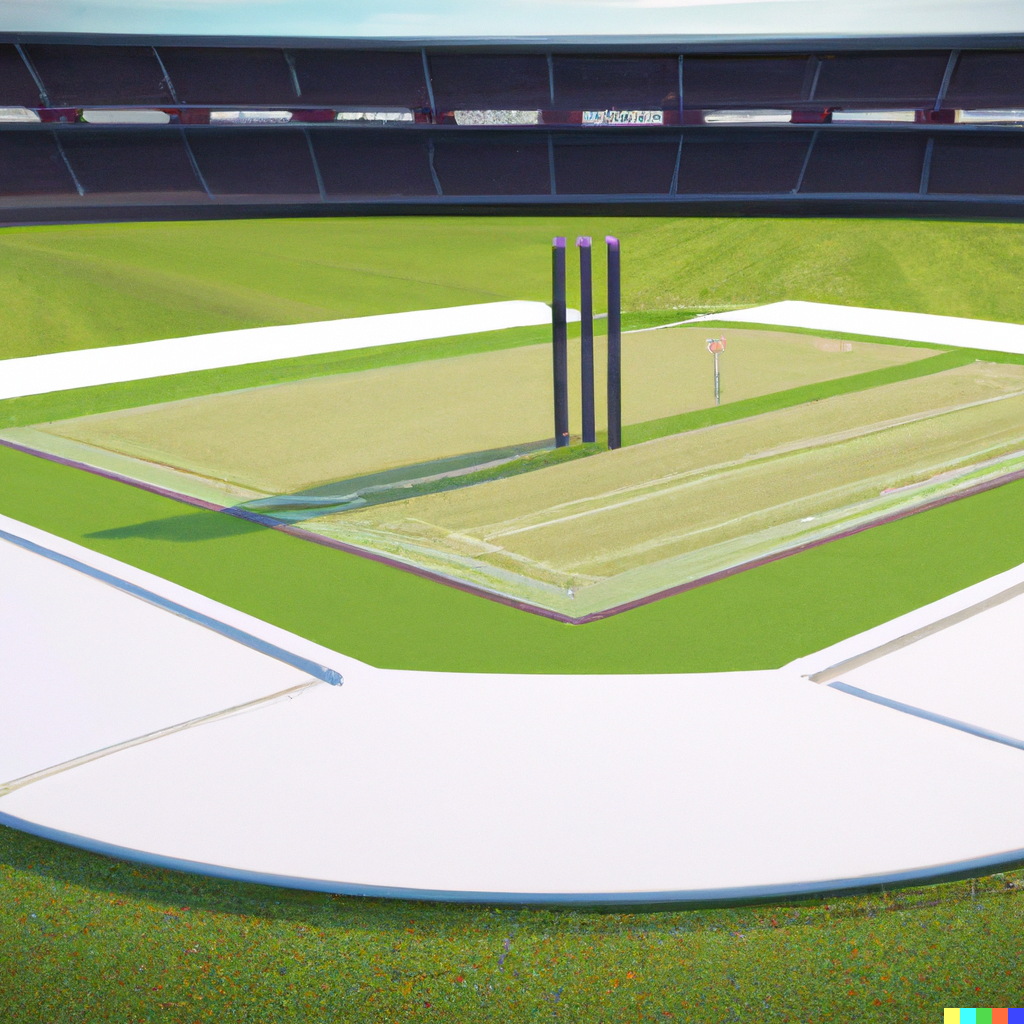 A Comprehensive Guide to Understanding Cricket Pitch Types
Green Pitch
A green cricket pitch, with its lush grass covering, not only looks greener but also proves to be ideal for test matches. Its slower wear rate allows the game to span over five days, providing a longer duration of play. Initially, the green pitch aids the faster bowlers, but as the match progresses, it sets the stage for a balanced competition between the batsmen and the bowlers.
Flat Track Pitch
Commonly known as a "flat pitch," this type of cricket pitch is relatively soft and might have undergone a gentle rolling process. It lacks cracks, grass, and significant signs of wear. A flat pitch provides minimal assistance to the bowlers, granting the batsmen the advantage of consistent and predictable bounce.
Dry Pitch
A dry pitch will have no moisture and it will have a tendency to crack. This can suit the faster bowlers but the batsmen shouldn't have too many problems. The ball will come nicely onto the bat and a dry pitch won't help with deviation unless the ball hits one of those cracks.
Wet Pitch
A wet pitch results from moisture caused by either high humidity or inadequate pitch covers. In extreme cases, if the pitch is too wet, umpires may deem it unfit for play. However, if the match does proceed on a wet pitch, the ball may either skid or bounce unexpectedly higher than usual, creating an element of unpredictability that favors the bowlers.
In the past, prior to the introduction of pitch covers, cricket matches were played on what was known as a "sticky wicket." In these conditions, the ball could literally adhere to the pitch, enabling spinners to generate significantly more dramatic turns. The stickiness of the wicket made it exceedingly challenging for the batsmen to score runs.
Dusty Pitch
Dusty pitches are often left unrolled, featuring a noticeable powdery layer of dust. Despite being dry, these surfaces are relatively soft, offering favorable conditions for bowlers to achieve spin on the ball.
Dead Pitch
A dead pitch refers to a flat surface devoid of grass or moisture, posing significant challenges for bowlers to take wickets. While it serves as an excellent choice for limited overs matches, where fans crave high-scoring games, a dead pitch would be ill-suited for test cricket.
Reading and Analyzing a Cricket Pitch: An Essential Guide
Prior to a cricket match, reading the pitch plays a crucial role in making informed team selection and batting order decisions that can greatly impact the game's outcome. It also enables the captain to make a well-informed choice between batting or bowling upon winning the toss.
Several factors should be observed, starting with the grass coverage on the pitch. A heavily green surface initially benefits the bowlers, making it advantageous to field first against the opposition. Conversely, a dusty pitch offers immediate support to slower bowlers, making it a favorable choice to bowl first if the team has talented spinners.
Moisture content is another important consideration for captains. A pitch with significant dampness can be classified as a wet wicket, presenting another favorable scenario for bowling first. Checking the weather forecast is crucial; if it predicts drying conditions throughout the day, opting to bat second becomes a better decision.
On pitches with minimal grass or moisture, it is more likely to encounter a flat or dead surface. Such pitches tend to favor the batsmen throughout the game, making the decision to bat first or second more balanced and uncertain.
Which Cricket Pitch Types Suit Different Bowlers?
Fast Bowling
A green pitch provides an advantage to the fast bowlers at the beginning of a game. However, as the grass covering diminishes, the level of assistance they receive may diminish as well. Hence, it is advisable for the pacemen to capitalize on the favorable conditions of the green pitch before it changes.
Spin Bowling
Dusty pitches greatly aid spin bowling as the ball is more likely to grip the surface, facilitating greater turn. Additionally, towards the end of a test match, a green pitch may wear out and develop a dusty texture, further benefiting spinners.