Cricket betting can be fun and rewarding, especially if you know how to use the 'back and lay' betting method. This technique helps experienced bettors control their returns. It can even lessen the chances of losing money and might secure a win. So, what does 'back and lay' really mean? Let's find out.
Back and Lay Explained
A back bet is a common sports bet where you wager on an event you believe will occur. In the context of cricket, imagine you place a bet on Joe Root to score a hundred in the first test match of a series against India.
On the other hand, a lay bet is a bet on an event you think will not happen. So, in this scenario, we would bet on Root not reaching a hundred runs.
So, What Exactly is a Lay Bet?
A lay bet is simply a wager placed on an event you predict won't occur. There are countless examples where you can apply this – betting on India not winning the world cup or on Australia failing to defeat New Zealand in their first ODI in a series. Essentially, you're betting on them not succeeding.
In most situations, you're placing a bet against another person, typically on a betting exchange rather than a sportsbook. It's like a friendly bet from long ago where one person would say, "I bet that horse wins," and the other would counter with "I bet it doesn't." They agree, and the bet is on.
In essence, Back and Lay is the digital age version of this traditional gentleman's wager.
Lay Bet Winner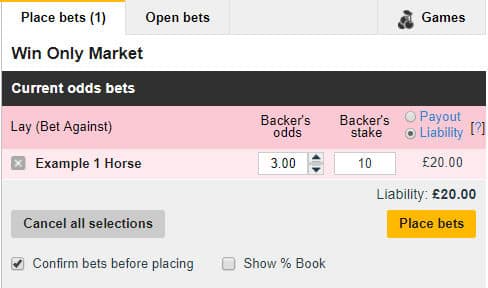 A lay bet is successful when the event you predicted doesn't occur. For instance, if we're betting on whether Joe Root will score a century, you'd make a profit if he doesn't reach that score.
So, if you bet against Root scoring a hundred runs and he ends up scoring 99 or less, you'd receive a payout. When it comes to settling, a lay bet pays out just like a traditional bet, but only when the bet is successful.
Back Betting Explained
This is the usual style of betting that most of us are used to. In this kind of betting, we are supporting an event to occur, like a team winning, a player scoring a hundred, or a team hitting the most sixes, among other things.
When you 'back' an event, you're betting it will happen. So, if you bet that Joe Root will score a hundred runs, you'll win your bet if he scores 100 or more.
The Betting Exchange Explained
A betting exchange operates differently from a traditional UK bookmaker. While a conventional sportsbook sets the odds and you bet against the house, an exchange allows for a more direct interaction between bettors.
Most sportsbooks don't offer lay betting, but it's a common feature on betting exchanges. Here, the bettors provide the liquidity. For example, if one bettor places a back bet on Team A to win, you have the option to place a lay bet, betting that Team A will not win.
While there are numerous betting exchanges available, all of them allow for lay betting, making them the go-to choice for anyone looking to explore back and lay betting.
Betting exchanges generate revenue by taking a small cut from each winning bet. This approach keeps them reliable and financially stable.
Conclusion
Back and Lay betting isn't typically recommended for beginners, but it can be a valuable strategy for those with more betting experience. It's also pretty simple to understand. To get a feel for it, you could start by trying out a few theoretical bets.
One potential perk of using betting exchanges, where Back and Lay bets are made, is they often offer better odds than traditional sportsbooks. So, if you're more inclined towards back betting, it might be worth comparing odds at an exchange.
Experienced bettors sometimes use Back and Lay betting simultaneously to secure a guaranteed profit. This strategy is mostly employed in live betting markets, where odds fluctuate constantly during a cricket match.
Imagine placing a back bet before a match starts and then realizing as the game progresses that the likelihood of winning this bet is dwindling. By balancing it with a lay bet, you might still secure a profit, regardless of the outcome.
Using this system efficiently requires betting experience and a knack for numbers, but it's one of the reasons why Back and Lay betting can be appealing.